How?
Organize your virtual event in
3 Steps
Set Your Dates
✓ Set the event dates.
✓ Prepare your landing page up to thirty days prior to the event and start collecting visitor registrations in advance.
Organize the Event
✓ The Dashboard will help you select and customize your main page, registration form, booths, event layout and seminars.
✓ Add new booths and users anytime.
Upload Exhibitor Content
✓ Booths can be customized allowing for unlimited content uploads
✓ Enjoy the one-to-one video meetings feature or utilize the group video meetings and webinars to connect with customers and partners during the event.
Fast, Easy, Flexible
Offers cost and time efficiency. Organize your virtual event anytime, anywhere. User friendly and does not require extra staff. No surprises. Also offer the most flexible and fast product in the market. Your online event can be ready within 24 hours. No need to install any software or download. No additional settings are required. Simply works from an internet browser. Internal video chat and webinar modules offer great user experience. Unlimited number of visitors and exhibitors. No hidden costs.
Fair, Workshop, Conference.
• We help you organize your events on a virtual platform and on your own domain.
• 3D support and the internal online video call module will allow you to run an event online.
• Establish hybrid events.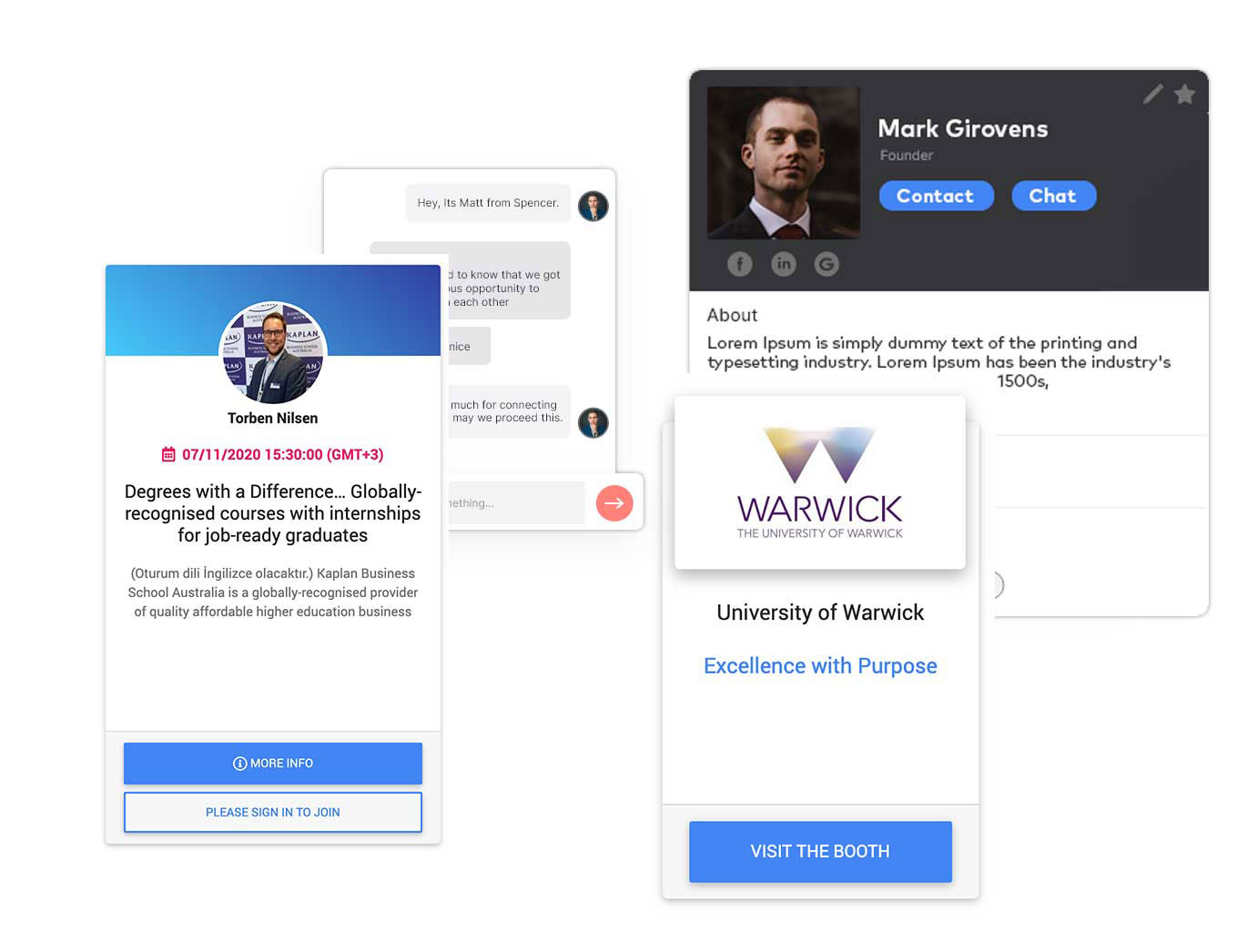 Fully Customizable Virtual Event Platform
Our flexible platform can integrate new templates and functions. Special features can be added that are unique to your needs.
Internal Video Calls
This feature is entirely contained within the system. No third-party communication systems involved.
Live Reporting
Accessing to the live reports you need during the event will allow you to maximize the efficiency of the event.
Multi-Language Capability
All User and Exhibitor interfaces support multi-language usage.
Fast and User-Friendly
Works quickly from anywhere in the world. Designed with mobile users in mind.
Ready to Go
Your event can be ready within 24 hours. The event page can be opened within 6 hours of DNS routing completion.
And more…
Contact us for a demo or more information.
VES Virtual
allows you to organize
Bring together prospective students with school exhibitors on our online platform. Students can visit school stands, get information regarding programs offered, talk to school representatives online plus make an application on site. Organize webinars throughout the event and direct visitors to booths using our matchmaking tool.
Future employees meet employers on our online platform. Job seekers can set up their profile and send their CVs through the platform, list and filter open jobs and apply to schedule an appointment with recruiters prior to the event. Employers can instantly create a list of applications received for each job position and filter according to their own criteria then arrange video interviews with the selected candidates.
Exhibitors can present and demonstrate their products and services through their online booths and meet with potential partners and customers. Visitors can meet exhibitors using our internal online video call system and join the networking rooms. Every one-to-one meeting, seminar, round table meeting, or panel discussion can be saved.
Gather all stakeholders of the health, wellness, and medical tourism industry to include medical doctors, hospitals, clinics, spas, hotels, agents, etc. through online one-to-one meetings, panel discussions, webinars, networking rooms, and booths. Organize a B2B or B2C event with an unlimited number of visitors. Medical treatment seekers can schedule private consultations with MDs and share any file or image online.
Gather all stakeholders of the tourism industry including operators, hotels, tourists, agents, suppliers, employees, etc. through online one-to-one meetings, panel discussions, webinars, networking rooms and end exhibitor booths. Organize a B2B or B2C even with an unlimited number of visitors.
Open as many online meeting rooms as needed to accommodate webinars, panels, and booths for any number of participants and guests. Each room is customizable to your preference for either an online or hybrid format.
Exhibitors and visitors can schedule their appointments through our platform prior to the event and participate in online video meetings during the workshop. Video meetings can be recorded and saved for 15 days. Exhibitors can customize their own booths and upload unlimited content.
Some of Our Former Exhibitors